Short of masks? Make your own fabric mask (with nose wire and filter pocket!)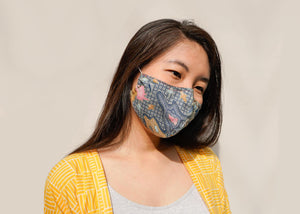 Shop Now: Reusable Batik Masks
As a result of the ongoing COVID-19 pandemic, surgical and N95 masks are either sold out in stores, or priced exorbitantly by resellers. We thought - what better way to spend our time in solidarity than to sew face masks using cotton off-cuts from our clothing line.
While fabric face masks are in no way a 1-to-1 replacement of the qualities of a surgical mask, they will partly protect you from droplets and particles, and you can be sure that the environment will thank you for reducing your use of disposable one-time-use masks.
Just remember to replace filter inserts and wash the mask after each use!
You can download our free mask pattern HERE and follow our step-by-step tutorial below.
MATERIALS TO MAKE YOUR OWN MASK
2 x approx. 20 by 10 inches of 100% cotton fabric (such as cotton t-shirts, check label first)
2 x elastic bands or hair ties. Each 25cm long (Flat bands are more comfortable than round ones)
Thin metal wire/twist ties (reuse from discarded masks!)
or alternative to elastic bands (Hijabi-friendly)
4 x cotton fabric for ties, about 45cm long (⅛" wide bias tape works great)
TOOLS
Needle and thread (optional: sewing machine)
Scissors
Pins or clips to hold fabric in place
DIRECTIONS
1. Download and cut out pattern pieces (child & adult sizes) from our FREE TEMPLATE.
2. Cut fabric from pattern piece. Place pattern piece on desired cotton fabric and cut 4 pcs. Make sure to cut fabric right-sides together so that the correct side of the fabric shows once your mask is done.
2 pcs inner layer

2 pcs outer layer
3. Sew along center seam to get inner and outer mask layers. Place 2 pcs of cutout fabric right sides together and sew with ¼″ allowance along the center seam.
Repeat with second set of cutout. One complete piece will be the outer layer of the mask, and the other will be the inner layer of the mask.
4. Cut notches into the curved center seam allowance. This is to reduce bulk and help the seam lay flat. Be careful not to cut into the sewing line.

5. Inner Mask Layer: Cut about 1" off the short edges.
Fold new short edges twice and sew.
6. Sew inner and outer mask layers together. With right sides together, pin inner and outer face mask pieces along top and bottom edge, matching at the center seam. Stitch with ¼″ seam allowance.
7. Turn layers inside out.
If you're using twist ties or exposed wires, turn and press in the sharp ends to prevent poking yourself while wearing the mask.
8. Insert nose wire piece and sew snugly at the top center of mask. Top stitch top and bottom of mask. 
9. Outer Mask Layer: Fold short edges twice with ½" width and sew. Take note: this width spacing is important to allow you to slot in your elastic bands.
10. Insert elastic bands. Thread elastic straps into each side of the outer layer mask with the help of a safety pin. Tie a knot and adjust as needed. 

Once you've found the best fit, tuck the elastic knot into the folded short edge to hide it.
DONE!
Stay safe and healthy, everyone!
Disclaimer: This face mask does not protect you if you are in direct contact with persons bearing the COVID-19 virus. It should be used in unison with non-woven filters/surgical mask inserts and only if nothing else is available.
Difficulty level:

 Intermediate
Time to Complete:

 40 mins
Techniques:

 Hand sewing, sewing machine
Materials:

 C

otton fabric, thin wire, elastic bands, repurpose scrap fabric
Related:
Covid-19, coronavirus, mask DIY, filter
2 Responses
Leave a comment
Comments will be approved before showing up.
---
Also in Sew It Begins